Mrs. Allison Hoskins, Principal 
Email: ahoskins@pasco.k12.fl.us
I am very excited to lead Odessa Elementary School this upcoming school year! I am beginning my 24th year as a school administrator in Pasco County. My role and passion for helping students, staff, and families is what drives me daily. I aim to make every day better and more fulfilling than the previous day.
As a child, I lived all over the U.S., and my family settled down in Pinellas County, where I graduated from high school. I always knew that I wanted to work in education and I was able to earn both my bachelor's and master's degrees from USF. Go Bulls!
Last year was challenging for me to get to know everyone when I joined the Odessa Wildcat family in April due to campus limitations. This coming school year will provide us the opportunity to connect and work more closely together. I look forward to supporting your child here at Odessa with our amazing staff!
Mrs. Vicki Rowland, Assistant Principal 
Email: vrowland@pasco.k12.fl.us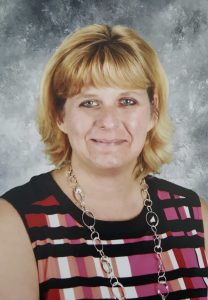 I'm proud to be the Assistant Principal of Odessa Elementary and I feel fortunate to work with the amazing students, families and staff that make up the Odessa Elementary School community. My educational career began by working in Early Childhood Education in Pinellas County and I later went on to earn my bachelor's degree in Elementary Education, graduating from St. Petersburg College. I joined Pasco County Schools in 2005 as a teacher at Sunray Elementary School.
After many years of teaching, I went on to pursue my master's degree in Educational Leadership from Saint Leo University. I was the Assistant Principal of Hudson Elementary and joined Odessa Elementary as the Assistant Principal in 2016.
I'm a native Floridian and I love spending time at the beaches and parks with my family. My husband John and I have one adult son.